Welcome to the website of the
Gilwell Park Amateur Radio Station
This website will be the hub of all the information during the Jamboree on the Air weekend, from Gilwell Park Scout Activity Centre. For the rest of the year it will still contain information about the station, and when we are likely to be active - however certain elements like the webcams and the live frequencies won't be running when the station is closed.
Jamboree-on-the-Air/Internet at Gilwell Park
The World Jamboree might be taking place this year in Japan, but not every Beaver, Cub and Scout has the chance to journey to the far corners of the Earth to meet other Scouts... With Jamboree-on-the-Air and Jamboree-on-the-Internet you don't need a passport to meet other Scouts from all over the world. Take part in the largest annual Scout event from Gilwell Park this October. Your day will be split into two halves - one half taking part in the JOTA/JOTI activities and the other half enjoying the adventurous activities in our main building - The Lid: including climbing, bouldering, high ropes and archery.
Geeky information: Activity for JOTA will be on all radio bands from 80 metres through to 2 metres depending on activity and conditions, and on SSB and CW (voice and morse code) as well as PSK (a data mode using 'phase shift keying'); RTTY (radio teletype) and SSTV (slowscan television) data modes. SSTV will be concentrated around the 20 metre band, however sstv contacts with anyone within VHF range would be welcomed on 2 metres. We will also have a station on Echolink - callsign is likely to be M0AEU, but look for 'Gilwell Park' or 'GB2GP' in the comments field. We might even have our amateur television station running - look for our picture through the local North London TV repeater, or on the BATC Streamer online here.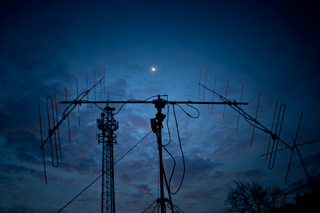 Discover Our World - this is the theme for this year's JOTA and our JOTA station will be looking at how we can discover our planet from space as well as using our main radio stations to contact other Scouts around the world, to discover how their world differs. This will include reception of images direct from the weather satellites (See our weather satellite page); contacting other radio stations by bouncing our signal off the moon (called 'moonbounce' or 'EME'); an hopefully hearing and maybe contacting the International Space Station and other radio satellites.

Tickets for this event are very popular, and we have limited space due to the nature of the event. Book your tickets today!
More details on our JOTA page...

Latest operating information:
Click on the images for more detail.
Webcam One
Webcam Two
Weather Satellite image
Slow Scan Television
Radios are currently on air on these frequencies:
| | | | |
| --- | --- | --- | --- |
| HF Radio 1: TS-2000 | Frequency: 3.690.220 | Mode: LSB | Last report: 16-Oct-2015 16:20:01 |
| | | | |
| --- | --- | --- | --- |
| HF Radio 2: TS-590 | Frequency: 14.290.000 | Mode: USB | Last report: 18-Oct-2015 18:49:17 |
| | | | |
| --- | --- | --- | --- |
| HF Radio 3: FT-990 | Frequency: OFF AIR | Mode: USB | Last report: 19-Oct-2014 16:50:00 |
| | | | |
| --- | --- | --- | --- |
| HF Data: TS-2000 | Frequency: 14.070.000 | Mode: USB | Last report: 16-Oct-2015 16:48:53 |
| | | | |
| --- | --- | --- | --- |
| VHF / UHF: TS-711E | Frequency: 14.235.000 | Mode: LSB | Last report: 16-Oct-2015 16:37:27 |
| | | | |
| --- | --- | --- | --- |
| EME Radio: FT-847 | Frequency: OFF AIR | Mode: | Last report: 19-Oct-2014 14:23:50 |
To see the latest stations heard on PSK, please click here
(enter GB2GP in the callsign box and select last 24 hours if not already selected)
Online Logbook