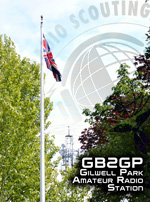 Welcome to the website of the
Gilwell Park Amateur Radio Station
This website will be the hub of all the information during the Jamboree on the Air weekend, from Gilwell Park Scout Activity Centre. For the rest of the year it will still contain information about the station, and when we are likely to be active - however certain elements like the webcams and the live frequencies won't be running when the station is closed.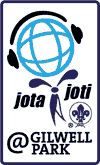 Jamboree on the Air & Jamboree on the Internet
at Gilwell Park 2013

Once again Gilwell Park will be hosting a JOTA/JOTI event from the Activity Centre this October on 19 and 20 October 2013. The event is open to all sections from Beaver to Network Scouts. Tickets are available for either a morning or afternoon session on either day and cost £5.00 per participant, including a campfire blanket badge. Due to the nature of the event, tickets are limited in any session to ensure all participants get to enjoy every aspect of the event. Booking has now opened for this year's event, so to ensure you places we recommend you book up early! Last year sold out completely on several of the sessions.
Activities will include contacting Scouts all over the World using amateur radio and the Internet, as well as various demonstrations of amateur radio modes and techniques, weather satellite reception, electronic kit building and the chance to work towards the communications and technology based activity badges. Our Internet cafe will provide links to other Groups around the world using the JOTI Chatrooms as well as video and skype links. One hightlight from last year included playing battleships with a Group in Finland over the video link! For more details about JOTA and JOTI please visit our dedicated webpages on the subjects.
---
There has been a station at the campsite for several decades... Have you been involved in the station in the past? If you have, are you able to supply any information or photographs for the History of the Station page? We want to try and document the various changes that have taken place and would love to hear from you. Drop Frank Heritage a line if you have anything you can assist with please.
Latest operating information:
Click on the images for more detail.
Webcam One
Webcam Two
Weather Satellite image
Slow Scan Television
Radios are currently on air on these frequencies:
| | | | |
| --- | --- | --- | --- |
| Radio 1: FT-990 | Frequency: 0 MHz | Mode: | Last report: 20-Oct-2013 16:53:40 |
| | | | |
| --- | --- | --- | --- |
| Radio 2: TS-2000 | Frequency: 14.070.000 MHz | Mode: USB | Last report: 16-Jan-2014 09:47:11 |
| | | | |
| --- | --- | --- | --- |
| Radio 3: TS-480 | Frequency: 28.495.600 MHz | Mode: | Last report: 20-Oct-2013 16:50:23 |
| | | | |
| --- | --- | --- | --- |
| Data: FT-920 | Frequency: 7.122.330 MHz | Mode: LSB | Last report: 20-Oct-2013 16:52:35 |
To see the latest stations heard on PSK, please click here
(enter GB2GP in the callsign box and select last 24 hours if not already selected)
Online Logbook
Visit the logbook page for a fuller list of stations worked...
www.hrdlog.net